Day 1 – Arrival in Bangkok
Sawasdee ka! Welcome to Thailand, today is the start of your amazing northern Thailand adventure! Get ready to explore Bangkok and meet your new travel besties. Our english speaking rep will greet you at the airport and introduce you to the group. 
After a quick transfer to the hotel, you'll have time to chill out, unpack and get settled before heading out to the first day welcome dinner. Have a few drinks, adjust to the heat and get to know your fellow travellers.
Meals Included: Dinner 
Day 2 – Bangkok Tour
You'll get thrown right into the action on day 2, get your checklist ready because we'll be crossing out quite a few bucket list items today! You'll visit the enormous reclining Buddha in Wat Pho, take a voyage across Chaopraya River and explore the colourful flower market and the lively klongs of Bangkok! 
But we aren't done yet! In the afternoon you'll explore the Temple of the Golden Mount and Wat Saket. After this exciting day the evening is yours to enjoy as you see fit!
Meals Included: Breakfast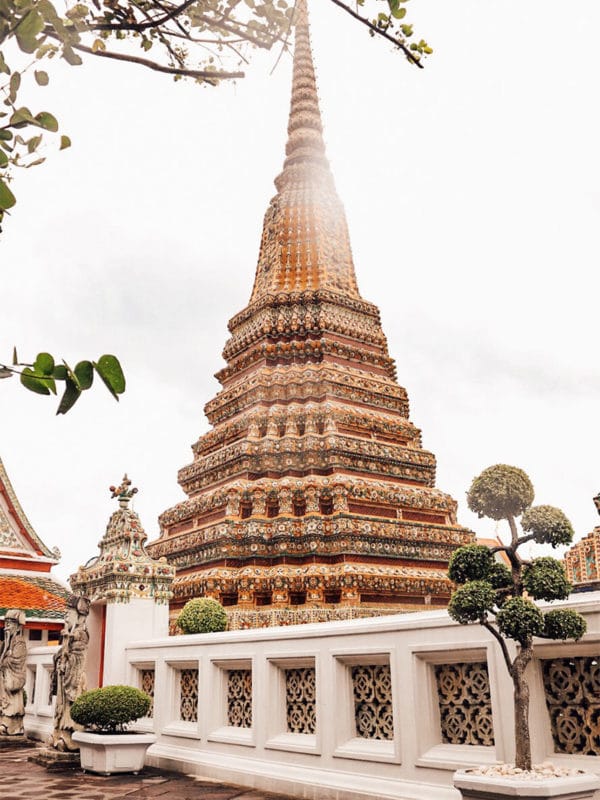 Day 3 – Bangkok to Kanchanaburi
After breakfast with your new travel besties, it's time to check out and head to Kanchanaburi where you'll visit the famous River Kwai Bridge. In the afternoon, enjoy the clear and cool water at Erawan Waterfalls before heading to check in to your new hotel.
Enjoy a free evening where you can relax and recharge after 3 jam packed days and get ready to meet Elephants tomorrow!
Breakfast Accommodation at HOTEL IN KANCHANABURI
Day 4 – Elephant Sanctuary Kanchanaburi
Today you'll visit the Elephant Sanctuary in Kanchanaburi which has created a safe haven for rescued Elephants, you'll get to meet, feed and care for these gentle giants all day!
You'll start the day preparing fruit, vegetables and sticky rice balls as tasty treats for your new elephant friends, you may even have the opportunity to plant food such as banana trees and sugarcane for them too! After lunch, it's bath time! Take the elephants to the river for a bath and don't be shy, get in there with them to give them a good scrub. 
This day isn't complete without the perfect elephant selfie to show your friends and family the best day yet!
Meals Included: Breakfast/Lunch
Days 5 – Kanchanaburi – Ayutthaya – Night train to Chiang Mai
Grab a quick breakfast then it's time to check out and head northwest to explore Ayutthaya, visit the ancient ruins in the UNESCO World Heritage site and be amazed by all the beautiful history. Don't miss out on the Roti Sai Mai (cotton candy) , an Ayutthaya famous dessert where you can watch it being freshly cooked! Once you try some, you'll know why it's a local delight! 
In the Evening, transfer to Ayutthaya train station for the night train to Chiang Mai where you'll stay in a 2nd class sleeping cabin. Don't forget your sleep masks, snacks and a book! This train departs at 19:45pm and arrives in Chiang Mai at 07:15
Meals Included: Breakfast
Day 6 – Arrival in Chiang Mai – Temple Tour – Doi Suthep at Sunset
Upon arrival at Chiang Mai train station, you will be transferred to your hotel where we will check in and drop the luggage first. Enjoy a free morning where you can catch up on some rest, or get exploring your new destination! Stroll around the area to find some delicious local breakfast. 
At 13:00pm we will meet back up with the group for an adventure-filled tour of the landmark temples in Wat Phra Singha and Wat Chiang Man before ending our exciting tour at the elegant Doi Suthep at sunset. All sunsets are beautiful in Thailand but this is one you really don't want to miss. After taking in all that gorgeous culture, history and scenery, relax on the way back to the hotel where you can enjoy the evening as you like.
Day 7 – Elephant Sanctuary Half Day
An early start to visit more elephants is so worth it, be ready for 8:30am and enjoy approx 50 minutes of rolling hills, forests and local farming areas on your journey to the Elephant Sanctuary. 
Once we arrive at the sanctuary, we will change into traditional clothing to prepare fruits for the elephants. There is no set schedule for the day, In order to allow you to spend as much time as possible with the elephants. Enjoy your day with elephants to the full and don't forget your cameras, you'll want to remember this life changing experience!
After an emotional morning caring, feeding and spending time with elephants, the rest of the day is yours to enjoy as you want!
Meals Included: Breakfast Accommodation at HOTEL IN CHIANG MAI
Day 8 – Chiang Mai Free Day
Free Day! Kick back and relax.
Catch up on some well earned rest or speak to your rep for their best recommendations of what to do in Chiang Mai!
Meals included: Breakfast
Day 9 – Cycling Trip
What's a better way to explore this amazing city than on bike! You'll get the true authentic Chiang Mai experience on this guided cycle tour. Make sure to eat up at breakfast and don't forget your water bottle before heading out at 9am for the transfer to the cycling centre. 
Here the experts will explain the cycling route for the day and get you fitted on your own mountain bike! Then it's time to start your cycling journey through Padad-Signakam, take in the gorgeous views as your cycle riverside and continue through beautiful gardens and over bridges. A quick stop at Wat Koh Klang, an important temple of this community, then we set off again! Cycling through vegetable plantations, seeing villagers hard at work tending to their crops, where all farming is sustainable and the land has been reclaimed. Next, we'll visit the ruined city and cycle through the ancient underground empire of Lanna kingdom built by King Mang Rai. 
After taking in all these beautiful views, it's time to head back to the cycling centre and transfer back to the hotel where you can enjoy a free afternoon to chill out by the pool or explore Chiang Mai.
Meals included: Breakfast
Day 10 – Chiang Mai Free Day
Have a free day to relax and enjoy Chiang Mai!
Meals included: Breakfast
Day 11 – Chiang Mai – Hilltribe & Eco Lodge
Get ready to experience pure atmosphere and pack your small bag for a 1-night stay at the Eco Lodge. Transfer from your hotel to the Eco Lodge located in rural Chiang Mai province with a strong sustainability concept.
In the afternoon, enjoy a walking tour of the hill tribe village to take in the way of life and the beliefs of the hill tribe people. Enjoy dinner at the Lodge guide where you'll get to sample the local cuisine.
Meals included: Breakfast & Dinner
Day 12 – Eco Lodge – Elephant Program – Chiang Mai
Enjoy the nature and culture at Lisu Lodge for the whole morning before visiting an elephant sanctuary in the afternoon. Spend your time observing and interacting with the elephants and make the most of your last visit with elephants!
After a heart warming morning, it's time to transfer back to your hotel in Chiang Mai. Once you arrive back, unpack and relax and spend the evening as you would like. 
Meals included: Breakfast
Day 13 – Chiang Mai – Night Train To Bangkok
Enjoy a chill morning, share breakfast with your fellow travellers and get ready to volunteer in a local Thai school! In the afternoon, you'll visit a school to volunteer teaching English and meet the adorable school kids who will never forget what you teach them! 
Then, it's time to transfer to Chiang Mai train station, and catch the overnight train to Bangkok departing at 18:00pm. You'll have time to pick up some snacks for the train before settling in for this overnight journey. 
This is the perfect time to reflect on the incredible experience you've had so far at Camp Thailand, while watching the rolling hills and jaw dropping sights whizz past you. Catch up on some sleep and arrive in Bangkok at 06:00am. 
Meals Included : Breakfast
Day 14 – Arrival In Bangkok – Koh Chang Island
Upon arrival in Bangkok in the morning, quickly grab some breakfast before we transfer by bus and by ferry to your hotel on Koh Chang. 
Time to hit the beach!!
Meals Included : Breakfast
Day 15 – Beach Day
Chill time at the beach, take in the views and soak up that lovely sun! 
Take a dip in the gorgeous aquamarine water, sunnies and a sun hat are recommended for this day! Speak to your rep to arrange additional activities at the beach. 
Meals Included : Breakfast
Day 16 – Island Hopping
An exciting day exploring 5 islands! After a quick breakfast, it's time to start your boat trip, transfer by taxi to Bang Bao fisherman village in the south end of Koh Chang Island where you'll set sail on your Island Hopping adventure! If you have ever wanted to snorkel, today is your chance! We'll take you to the absolute best snorkelling places in Koh Change where you'll get an unforgettable underwater experience. 
Then enjoy a slow-boat ride to the beautiful beach of Koh Rang sailing through the gorgeous coral islands of Koh Yak, Koh Lie and Koh Thong Tuck before tucking into a buffet served on the boat, followed by a BBQ. 
It's hard to say goodbye to those beautiful views but it's time to head back to Koh Chang. 
Meals Included : Breakfast
Day 17 – Koh Chang Free Day
Full day to chill in paradise. 
In the evening we will do a leisurely bar crawl and visit some of Koh Chang's coolest hangouts 
Meals Included : Breakfast
Day 18 – Klong Plu Trek
Wake up early for an exciting trek to Klong Plu Waterfall, grab a quick breakfast and be ready for the transfer at 08:00am. This 3.5 kilometre trek takes a total of 3-4 hours while you wander through a dense rainforest, filled with tons of trees, flowers and greenery and if you are incredibly lucky you may even spot some beautiful wild animals. But you will definitely hear them! Take in the gorgeous nature on your journey to the waterfall hidden inside the forest, a sight so beautiful to behold you won't want to forget your camera to snap away on this trip. Rest your legs, enjoy the waterfall and take a swim after your trek! 
After returning to the hotel in the afternoon, the evening is yours to chill and rest. 
Meals Included: Breakfast
Day 19 – Koh Chang – Bangkok
After breakfast with your fellow travellers, it's time to check out from the hotel. We will transfer by ferry and by vehicle back to Bangkok. Arriving back at our start hotel near Khoa San. 
Enjoy your last night in Bangkok and get ready to say goodbye to Thailand. 
Meals Included: Breakfast
Day 20 – Depart from Bangkok
Your last day on Camp, spend your morning getting ready to depart and enjoy breakfast with your travel besties before saying goodbye and checking out of the hotel. 
Meals Included: Breakfast