Day 1 – Bangkok Airport Pickup + Khaosan Road
Arrive before 5 pm for a free airport pickup from Bangkok Suvarnabhumi International Airport (BKK) where one of our team will be eagerly awaiting your arrival and we will get you back to a hotel in the heart of Bangkok where you can drop your bags, nap or let Bangkok attack your senses and stomach with some delicious Pad Thai!
In the evening we will take you on a wander around the famous Khaosan Road, known for its insane street parties, loud music and bustling vibe, this is the best way to throw yourself into everything Camp Thailand and Bangkok has to offer!
Day 2 – Boat trip + Wat Arun & Wat Pho
After a drink (or five) we are sure you will want the chance to get a bit of a rest so the morning is yours to enjoy. Prep your bags for checkout and get some breakfast at the bakery before we head along for a ride along the Chao Phraya River and visit the beautiful monuments of Wat Pho and Wat Arun!
Whilst this may seem like a bit of a trek, there will be comfy big seats and blankets as well as a local Thai meal at a stop-off on the way, so you will be more than fresh for your arrival into Phuket the next morning!'
Sweet Dreams!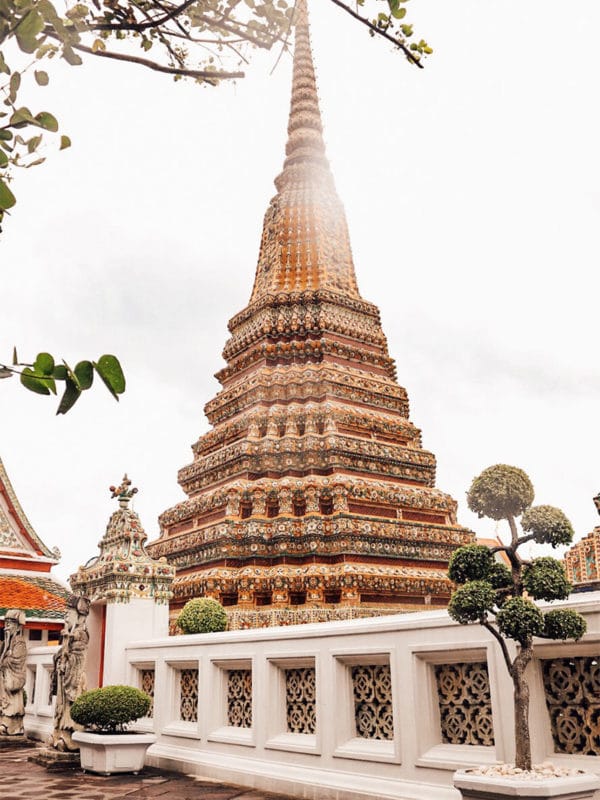 Day 3 – Phuket – Beach Chilling & Local Bars
Check into our accommodation where you can ride down the water slides and settle in before heading out to the beautiful beaches to relax and get your tan on.
The beaches around here are beautiful so you will also have an amazing chance to get that Insta-worthy pick to make all your friends super jealous!
Day 4 – Visit the Incredible Patong Beach.
After a free morning to explore the beautiful city of Phuket, head to the stunning 'Patong Beach' and soak up some rays on a blanket of white sands.
Take a dip in the ocean, treat yourself to a massage on the beach, or even get involved in some water sports!*  In the evening, get ready to party hard with your new camp friends with a warm-up pool party followed by a stunning beach club & fire show! *additional cost.
Day 5 – Elephant Sanctuary Visit and Beach BBQ in the Evening
Today's priority… secure that epic elephant selfie! Head over to Elephant Haven Sanctuary to help care for these beautiful creatures: spend the morning learning all about the elephants, making food balls and hand feeding them, watch them bathe in mud, and even jump in the showers with them.
After an incredible morning, chill out on the beach in the afternoon and head back to Phuket in the evening to enjoy a delicious hot plate restaurant, and cook your own meats for an exciting restaurant experience.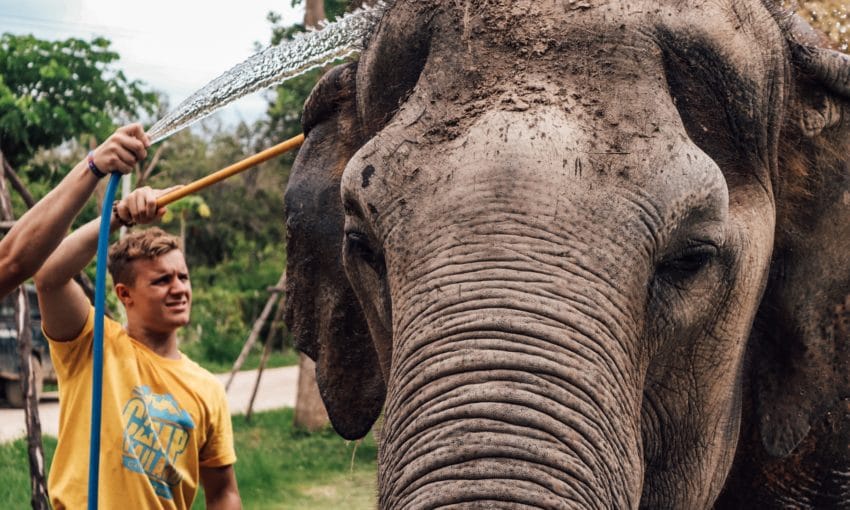 Day 6 – Transfer to Phi Phi Island!
This morning, you'll travel 25 miles South-east of Phuket to discover the unexplainable beauty of Phi Phi! Check into your new hotel then spend the afternoon chilling by the onsite pool and exploring the local area.
The island is home to the most stunning limestone mountains, mysterious caves and white sandy beaches – explore at your own pace. In the evening, prepare yourself to experience an authentic Thai Fire-show performance on the beach, followed by the renowned Phi Phi bar crawl! Get ready to party!
Day 7 – Experience Phi-Phi Viewpoint and Banana Bar Movie!
Today is a free day to relax and soak up some rays on the beautiful beaches, if you're interested in trying a scuba dive, this is one of the best places to give it a try in all of Thailand, speak to your rep and they can help arrange this for you*.
Later on, grab your trainers and water bottle to prepare for an afternoon hike up to Phi-Phi Viewpoint to watch the sunset! (We promise the views at the top are worth it!) Don't believe us?.. google it! Time to get that perfect Instagram shot!
In the evening, grab some food and head to the Muay Thai bar to watch the pros fight, or have a go in the ring yourself, be careful!
*additional cost
Day 8 – Boat Tour around nearby islands and Evening Bar Crawl!
Prepare to embark on a boat tour around Phi Phi's neighboring islands!
Explore beaches, swim through the turquoise water of Pileh lagoon, and snorkel the ocean to see what amazing sea life Thailand has to offer. We'll come back for lunch and then head back out in the afternoon to another incredible beach. In the evening, get involved in an optional Bar Crawl and catch up on some sleep before transferring to Krabi tomorrow morning.
*Please note, that food/drinks are not included in the Pub Crawl. This comes as an additional personal expense
Day 9 – Transfer to Krabi followed by Evening Meal
This morning, transfer a little further South to the province of Krabi – renowned for its sheer limestone cliffs, dense mangrove forests and more than a hundred stunning off-shore islands!
Spend the day exploring your home for the next 2 days before heading out for an evening meal with your camp friends.
Day 10 – Krabi Tour, Emerald Pools, Tiger Temple and Hot Spring Visit!
Krabi Tour, Tiger Temple, Emerald Pools, and Hot Spring Visit!
An adventure-packed day full of incredible tours and activities! Get ready to explore Krabi's hotspots – climb the Tiger Temple and experience the incredible view at the peak, marvel at the Emerald Pools, then relax and rejuvenate in the Krabi Hot Springs! (Better than any UK Spa day you've ever experienced, trust us on this one!).
Day 11 – Finish exploring Krabi and transfer to Bangkok in the afternoon
This morning, you'll have free time to finish exploring the island of Krabi! Chill around the pool, hit up the markets for souvenirs and gifts or soak up some last minute rays on the beach!
In the afternoon, transfer back to Bangkok where we will be coming towards the end of the journey however it's not time to be sad for you have made memories to last a lifetime!
Day 12 – Bangkok Airport
Island Hopping Tours Thailand adventure has come to an end 🙁
We are back where we started in the city of concrete dreams! We will make sure that you get back to the airport safely to jump aboard your flight back home to reality. (Until your next summer of a lifetime at camp anyway)
Make sure that you packed your earphone's and your phone charger is in your carry on so you can make the most of the airport WiFi so you can share your #CampThailand story! ❤️