Day 1 – Arrival & Orientation
Mini orientation and Welcome meal by the beach – time to make friends!
Day 2 – Day Tour around the beautiful Island of Phuket!
Visit the beautiful old town of Phuket as well as taking in the breathtaking views of the island from the mountain viewpoints. You will also take in the stunning Big Buddha statue; the scenery is absolutely stunning from here.
Day 3 – Orientation, School Training & Muay Thai Boxing
The orientation will entail going through guidelines for Thai culture as well as learning basic Thai phrases to get you through the day. Lesson planning will also take place, during which time you will learn new skills and plan lessons to take into the local schools. In the afternoon, we'll head to a renowned Muay Thai gym to learn basic Muay Thai skills from local professional coaches.
Days 4-7 – Schools Visits
During the next few days of your trip, we'll be making visits to local schools. This is your chance to really get involved and put into practice the skills you have picked up on your Young Learners Course. Remember to demonstrate enthusiasm whilst in the local schools; the kids feed off your energy. Rest assured, this will be an unforgettable part of your trip!
Day 8 – Elephant Sanctuary Visit
Don't forget your camera, this is your chance to snap the perfect elephant selfie! Get the chance to walk with these gentle giants as well as feeding them their favourite local fruits. Then it's time for the…MUD BATH!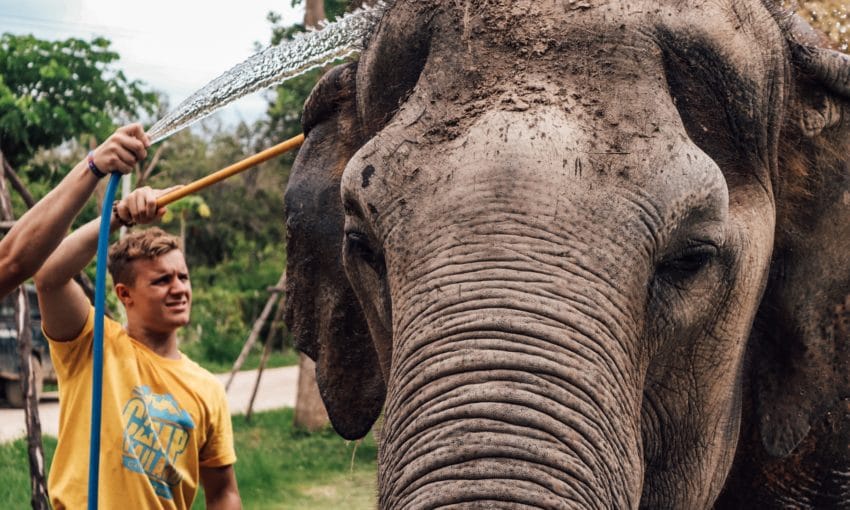 Day 9 – Pub Crawl
Today is a free day, followed by an evening Pub Crawl on the infamous Bangala Road!
*Please note, food/drinks are not included in the Pub Crawl. This comes as an additional personal expense
Day 10 – Beach BBQ
Watch the sunset, enjoy a cocktail and BBQ with your new Camp friends. The stunning sunsets of Thailand are a sight to behold – don't forget your camera to snap that Instaworthy pic!
Days 11-12 – Back to School
You'll have the opportunity to visit a different school location and spend your day making an impact on the education of children within the local areas. Again, remember to demonstrate enthusiasm whilst in the local schools and lead by example!
Day 13 – Koh Phi Phi
It's time for the Island Adventures to begin! You will be getting a ferry across to the island of Koh Phi Phi where you will begin your tour around the islands! With magnificent viewpoints and beautiful beaches, this truly is heaven on earth…
Day 14 – Koh Phi Phi – Boat Trip
Enjoy a full day boat trip to Pileh Lagoon and various other local hotspots including Monkey Beach! Enjoy snorkelling in pristine waters while you soak up the sun on deck; afterwards, we'll head back to Phi Phi to enjoy beach parties and fire shows!
Day 15 – Koh Phi Phi – Krabi
It's time to say goodbye to Koh Phi Phi, as you will be heading over to Krabi! It will be another ferry from Phi Phi where you'll get the grand send-off before your arrival into our beautiful resort in Krabi.
Day 16 – Krabi
Visit the Emerald Pools, a natural hot spring and prepare to climb 1,273 steps to visit Tiger Cave Temple.
Day 17 – Head to Railay Beach
Enjoy exploring this beautiful area and the glorious beaches. Don't forget to check out an evening fire show!
Day 18 – Island Boat Trip
Go on a little island hopping tour within your island hopping tour. Visit some of the smaller islands around Krabi and become encapsulated by their beauty.
Day 19 – Check Out & Back to Phuket
Time to leave the beautiful island of Krabi and head back to our favourite stomping grounds in Phuket. You will be staying in a hotel close to the airport where you can prepare for your flight home.
Day 20 – Farewell
Time to say goodbye to your new friends, exchange contact details and head home!