Day 1 – Overnight – Bangkok
Pack the essentials, grab your passport and get ready for an adventure of a lifetime, a captivating journey through some of Asia's most idyllic locations.
Upon your arrival in Thailand, you and the rest of the group will be picked up from the airport and transferred to your accommodation in Bangkok, Thailand's iconic capital city.
Asia is known for stunning cuisine, famous for its array of lush flavours; after settling in and dropping off your bags, enjoy a welcome meal to inaugurate your Camp Thailand trip before heading out for a trip to Khao San Road for a dose of retail therapy and drinks to round off the first day of what promises to be a memorable expedition!
Please note for the airport transfer you must arrive before 5pm on your start day into BKK airport.
Day 2 – Overnight – Singburi
There are an abundance of beautiful sites to enjoy during your visit to this magical city of Bangkok.
Today, we're kicking off the day on the water with a ride on the Bangkok River Tour; marvel at the majesty of Bangkok from an aquatic perspective and be sure to bring your selfie-stick – this is a great chance to showcase your photographic flair!
Upon returning to dry land, we'll visit Wat Pho, otherwise known as the Temple of the Reclining Buddha. The temple is one of the largest in temple complexes in the whole of Bangkok and is widely regarded as a must-see for any tourist.
There are in excess of 312,000 temples sprinkled through the Thai terrain, each blessing the Asian backdrop with its own unique quality. After visiting Wat Pho, we'll venture to Wat Arun, otherwise known as the Temple of Dawn and one of the most recognisable temples in Thailand.
A stellar structure gracing many a postcard, Wat Arun is one of only six temples falling under the classification of the highest rank of Royal Temple, thus cementing its status as one of the most prestigious temples in the country.
To round off a memorable day, we'll visit the Golden Mountain, a historic temple dating back to the Ayutthaya era, before transferring to the Singburi province located in central Thailand.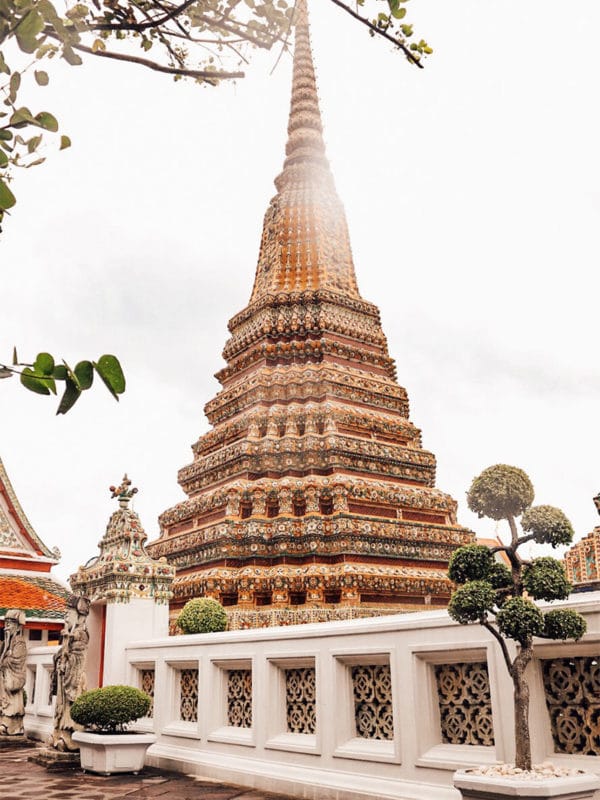 Day 3 – Overnight – Singburi
Despite its indisputable charm and magical aura, Singburi is rarely considered a must-see location in Thailand; however, the jewel nestled in the core of the country is packed with allure and intrigue and is widely deemed to be the spiritual heartland of Thailand; for the next few two days we'll be staying in the vicinity of this incredible location.
Lopburi Monkey Island is one of the most well loved attractions in Thailand, a city where monkeys and humans live in unison. A must for monkey fans, a trip to the island is the ideal opportunity to admire these intriguing animals in the wild.
Watch out for your belongings, the monkeys have a tendency to pickpocket tourists given half the chance!
Following the visit to Lopburi, we'll deviate back to the more conventional elements of Thai culture, with a visit to Big Buddha. A colossal structure overlooking the Thai landscape, Wat Pikul Thong is the largest Buddha in Thailand.
Day 4 – Overnight – Kanchanaburi
Day 4 – Ultimate Adventure
Get up bright and early for another jam-packed day of activities!
Transfer to the cultural hotbed of Kanchanaburi, the next host of your trip of a lifetime! On the way we'll stop off at the Bridge over the River Kwai, walking freely over the open-air beams, this is a totally 'insta-grammable' spot! Learn about the history and deep-rooted culture of the bridge before we head off again to our next destination – Erawan Falls!
What's a trip to Thailand without a day chasing waterfalls?! Explore the 9 stunning waterfalls of Erawan National Park – climb to the top and make your way down the many cascading falls, taking dips along the way in the emerald green waters. Famous for its 'waterfall slide' and 'Fish Spa', today is a truly picture worthy day!
This evening, settle into your new home for the next few days and enjoy some free time to relax and prepare for a day splashing around with Elephants tomorrow!
Day 5 – Overnight – Kanchanaburi
Elephants are considered sacred and are a revered, respected species in Thailand. Today, we'll head to an elephant sanctuary, to spend a full day feeding and caring for these majestic creatures – a unique experience to remember, sure to live long in the memory.
It'd be a shame to travel to Thailand and leave without a customary elephant selfie to commemorate your visit! Be sure to bring a camera and capture your once in a lifetime moment!
After a long day at the sanctuary, catch up on some much needed rest ahead of a transfer to Ratchaburi in the morning!
Day 6 – Overnight – Hua Hin
Ratchaburi is a central Thai province, famous for its Damnoen Saduak floating market, an aquatic retail haven comprising traditional food, crafts and souvenirs.
Following an insight into contemporary Thailand during your time in Bangkok, the market is a phenomenal way to embrace the more conventional era of Thai civilisation.
After indulging in an alternative form of retail therapy, we'll leave Ratchaburi and begin our transfer to Hua Hin.
Day 7 – Overnight – Hua Hin
From the bustling streets of Bangkok and sedate surroundings of Kanchanaburi, Hua Hin is a seaside resort located on the Gulf of Thailand, in the southern Thai province of Prachuap Khiri Khan.
Dressed in decadent sands and sprawling shores, Hua Hin is popular amongst beach enthusiasts and water sports fans.
Today, we'll be sampling the much-loved Muay Thai, a traditional form of combat sport embraced by large sectors of the Thai community.
Day 8 – Overnight – Hua Hin
A truly spellbinding temple in the midst of a cave in the underbelly of Hua Hin, Phraya Nakhon Cave is a possessed with copious servings of mystique and intrigue.
Uncovered only to the eye of the most dedicated, ardent traveller, Phraya Nakhon Cave delivers a captivating spectacle once its protective shell is infiltrated – rest assured, this is a visual extravaganza too good to turn down!
Day 9 – Overnight – Surat
It's time to transfer to Khao Sok National Park, a nature reserve boasting staggering beauty; the park is known for an array of amazing wild animals, as well as the gargantuan rainforest – the perfect prelude to spending the night in idyllic floating bungalows…
Day 10 – Overnight – Surat
Today, you'll be presented with the opportunity to venture further into the delights of Khao Sok, with a boat tour of the area on the agenda; moreover, you'll also partake in a kayaking session around Khao Sok, the ideal opportunity to absorb the natural beauty in the area and marvel at the decadent delights in the area many regard as being Thailand's most absorbing nature park.
Day 11 – Overnight – Phuket
Today, we'll be departing Khao Sok and heading to Phuket, a mountain clad, decadent island in the Andaman Sea.
An exotic cocktail of sun-kissed beaches and exhilarating culture, Phuket is one of the most recognisable hotspot on the Thai map.
Upon arrival, you'll be given an opportunity to enjoy some free time with your Campmates and explore the relics of Phuket.
Day 12 – Overnight – Phuket
Phuket has established itself as one of the most popular tourist destinations in Thailand, with geographical diversity and an assortment of attractions catering to the needs of a range of visitors.
While beach lovers can enjoy the golden sands and translucent waters of Karon Beach, culture seeking visitors can visit the Buddhist temple Wat Chalong.
Today, we'll be visiting the popular resort town of Patong Beach, famous for its nightlife and livelier surroundings. We'll head out on a bar crawl around some of the most popular hotspots in the area!
Day 13 – Overnight – Phi Phi Islands
Following the events of the evening prior, we're sure that you'll be keen to rest in the morning! In the morning, relax and recharge your batteries, grab some breakfast and prepare yourself for a transfer to Koh Phi Phi, the next location of our Camp Thailand Ultimate Adventure!
Day 14 – Overnight – Phi Phi
There's no rest for the wicked with Camp Thailand; hot on the heels of our bar crawl, we'll mark our arrival in Koh Phi Phi with a day on a booze cruise and a visit to Pileh Bay, a scenic bay surrounded by grace and charm.
Southwest of Tonsai Bay is Monkey Beach, an idyllic stretch of powdery white sand populated by monkeys. We'll pay a visit to the beach before heading to the Banana Bar to unwind and watch a movie.
Days 15 – Overnight – Krabi
This morning, indulge in some spare time with your Campmates and reflect on your first two weeks of your Camp Thailand adventure!
The trip may've passed the halfway point, but there are plenty more memories waiting to be made, starting with a trip to the Phi Phi viewpoint! Make sure you're wearing your comfiest walking shoes; this is a tough hike, although you'll be treated to the most beautiful views upon reaching the summit! After the trek, we'll transfer to Railay Beach.
Day 16 – Overnight – Railay Beach
A location accessible only by boat, Railay Beach is the epitome of paradise.
Contrary to popular belief, Railay Beach isn't a solitary beach, but a small peninsula containing a cluster of four beaches.
Today, you'll be given a free day to enjoy the delights of this natural phenomenon, a favourite amongst rock climbers and beach dwellers alike.
To round off your day in style, you'll even be given a fire-dancing lesson!
Day 17 – Overnight – Krabi
Following an exhilarating trip to Railay Beach, we'll transfer to Krabi, enjoying a free day upon arrival.
Day 18 – Overnight – Krabi
A mesmerising natural pool, Emerald Pool represents yet another sight to behold in the midst of Thailand's natural backdrop.
Encompassing green emerald waters, the pool is surrounded by a barrage of greenery, home to an assortment of wildlife.
After drying off, we'll visit Tiger Temple and round the day off with a bar crawl in the centre of Krabi.
Day 19 – Overnight – Phuket
Let's get back to Thailand's amazing island of beauty! Today, we'll head back to Phuket and have one (or two!) drinks, its time for one last bar crawl!
Day 20 – Overnight – Phuket
It's your final night on the Ultimate Adventure. Time for you to pick up some souvenirs and do some last-minute gift shopping for your friends and family at home! You can chill next to the pool or even start planning your onward travel!
Day 21 – Farewell
It's been an incredible trip; we hope you've enjoyed every minute, but unfortunately, it's reached that point when we need to go our separate ways and head home! With a whole host of other countries to explore, we'd love to see you again! Why not plan your next trip during your flight and get in touch upon your return?
Much love, as always! The Camp Thailand team xx
*Please note the tour finshes in Phuket, and you will make your own way to any onward travel arrangements*